Flood Heights for the Coopers Creek at Corndale, NSW
Report by Michael Bath - www.facebook.com/nnswweather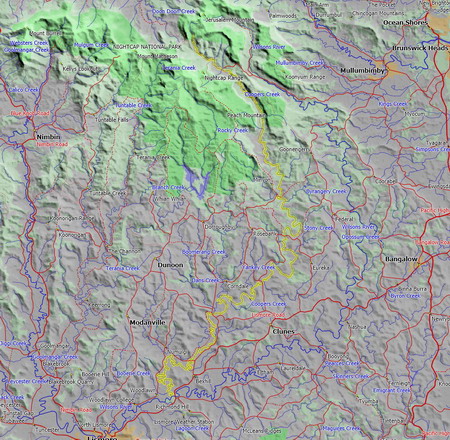 Coopers Creek map source: Bonzle Atlas
Flood levels (in metres AHD) for the Coopers Creek at Corndale, NSW. This data sourced from BoM Water Data Online.
For current rainfall and river height information refer to the North Coast Rainfall and River Conditions page.
The flood classification levels are unofficial, and based on research regarding frequency and the effects of flood waters along the Coopers Creek valley upstream of Boatharbour. If you have information about how certain flood level affects properties in the area please contact Michael Bath.
- Lismore Flood Pictures and Wilsons River Flood Height Information
- Wilsons River at Eltham Flood Heights
- Coopers Creek at Corndale Flood Heights
- Leycester Creek at Rock Valley Flood Heights
| | | |
| --- | --- | --- |
| Minor: 6.0 | Moderate: 7.5 | Major: 9.5 |
This table includes all flood events that reached a flood classication at the Rock Valley gauge, which came online in June 1982 (6 June 1985 to 4 April 1992 missing).
| | | | | | | | |
| --- | --- | --- | --- | --- | --- | --- | --- |
| Time | | Date | Minor | Moderate | Major | Notes | Rainfall Data |
| 19:45 | | Tuesday, 29 November 1983 | 6.720 | | | 1st peak | |
| 10:25 | 10:51 | Wednesday, 30 November 1983 | 6.658 | | | 2nd peak | Rain: Northern Rivers |
| 17:00 | | Monday, 9 April 1984 | | 9.400 | | | Rain: Northern Rivers |
| 22:12 | | Monday, 18 June 1984 | | 8.974 | | | Rain: Northern Rivers |
| 20:00 | | Wednesday, 15 February 1995 | | | 10.270 | | Rain: Northern Rivers |
| 18:00 | 19:00 | Wednesday, 10 January 1996 | 6.990 | | | | Rain: Northern Rivers |
| 09:00 | | Friday, 3 May 1996 | | 8.020 | | 1st peak | |
| 20:00 | 21:00 | Monday, 6 May 1996 | | 8.590 | | 2nd peak | Rain: Northern Rivers |
| 05:00 | 07:00 | Monday, 1 March 1999 | 6.130 | | | | Rain: Northern Rivers |
| 11:00 | 12:00 | Sunday, 11 April 1999 | | 7.820 | | | Rain: Northern Rivers |
| 06:00 | 07:00 | Friday, 14 January 2000 | 7.090 | | | | Rain: Northern Rivers |
| 07:15 | 07:46 | Wednesday, 25 February 2004 | 6.587 | | | | Rain: Northern Rivers |
| 12:15 | 13:31 | Saturday, 6 March 2004 | | 8.528 | | | Rain: Northern Rivers |
| 12:30 | 12:46 | Wednesday, 8 December 2004 | 6.047 | | | | Rain: Northern Rivers |
| 02:45 | 03:16 | Thursday, 30 June 2005 | | | 10.449 | | Rain: Northern Rivers |
| 17:15 | 17:16 | Thursday, 19 January 2006 | | | 10.111 | | Rain: Northern Rivers |
| 12:00 | 12:31 | Saturday, 4 March 2006 | 6.546 | | | 1st peak | |
| 01:45 | 03:16 | Monday, 6 March 2006 | 6.058 | | | 2nd peak | Rain: Northern Rivers |
| 11:30 | | Friday, 4 January 2008 | | 8.431 | | | Rain: Northern Rivers |
| 07:15 | | Monday, 4 February 2008 | 6.116 | | | | Rain: Northern Rivers |
| 13:45 | 14:01 | Tuesday, 3 June 2008 | | 7.607 | | | Rain: Northern Rivers |
| 00:46 | | Friday, 22 May 2009 | | | 10.262 | | Rain: Northern Rivers |
| 15:15 | | Thursday, 3 June 2010 | | 7.727 | | | Rain: Northern Rivers |
| 08:15 | 08:30 | Monday, 4 October 2010 | 7.319 | | | | Rain: Northern Rivers |
| 12:15 | 12:45 | Saturday, 25 December 2010 | 6.677 | | | 1st peak | |
| 21:15 | 21:45 | Monday, 27 December 2010 | 7.436 | | | 2nd peak | Rain: Northern Rivers |
| 08:30 | | Friday, 7 January 2011 | 6.349 | | | | Rain: Northern Rivers |
| 21:15 | | Wednesday, 25 January 2012 | | | 10.029 | | Rain: Northern Rivers |
| 11:30 | | Monday, 28 January 2013 | | | 10.536 | | Rain: Northern Rivers |
| 23:45 | | Friday, 22 February 2013 | | 8.512 | | | Rain: Northern Rivers |
| 05:00 | | Sunday, 3 March 2013 | 6.780 | | | | Rain: Northern Rivers |
| 13:45 | | Tuesday, 2 July 2013 | 7.095 | | | | Rain: Northern Rivers |
| 17:15 | 17:45 | Friday, 28 March 2014 | 6.946 | | | | Rain: Northern Rivers |
| 12:30 | | Thursday, 1 January 2015 | 6.112 | | | | Rain: Northern Rivers |
| 05:45 | 06:45 | Saturday, 21 February 2015 | 7.229 | | | | Rain: Northern Rivers |
| 07:30 | | Saturday, 2 May 2015 | | 8.264 | | | Rain: Northern Rivers |
| 01:45 | | Sunday, 5 June 2016 | | | 10.984 | | Rain: Northern Rivers |
| 21:45 | | Wednesday, 15 March 2017 | | 8.475 | | 1st event | Rain: Northern Rivers |
| 04:30 | | Friday, 31 March 2017 | | | 10.466 | 2nd event | Rain: Northern Rivers |
| 19:56 | 20:21 | Thursday, 13 February 2020 | | 8.95 | | | Rain: Northern Rivers |
| 11:43 | 12:33 | Tuesday, 15 December 2020 | 7.22 | | | | Rain: Northern Rivers |
| 01:34 | | Saturday, 20 February 2021 | 7.36 | | | | Rain: Northern Rivers |
| 14:58 | 16:07 | Monday, 22 March 2021 | 7.41 | | | | Rain: Northern Rivers |
| 19:01 | 20:27 | Thursday, 24 February 2022 | | 9.11 | | | Rain: Northern Rivers |
| 9.45am | | Monday, 28 February 2022 | | | 12.54 | gauge damaged, likely higher | Rain: Northern Rivers |
| | | Wednesday, 30 March 2022 | | | no reading | gauge still damaged | Rain: Northern Rivers |
| 7:52 | 8:02 | Monday, 24 October 2022 | | 9.43 | | | |
| Time | | Date | Minor | Moderate | Major | Notes | Rainfall Data |