---
If you have any photos or video of funnels or tornadoes taken in Australia and wish to have them displayed on this website, please contact us.

See also:


---
Dululu, QLD
The Groundwater family of Biloela witnessed this funnel cloud at Dululu on Saturday 12th November 2005 at 2.45pm.
"We passed through rain about 15 mins after seeing the funnel on the trip to Rockhampton. After the funnel disappeared we noticed that the clouds above where it had been were bluish/greenish, suggesting that a hail storm might occur. We only experienced heavy rain for part of the trip."
The following 3 images are close ups of the first three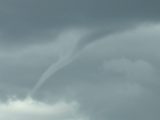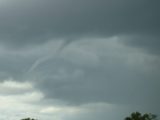 ---
Spring Terrace, NSW
Marks Adams witnessed this tornado at Spring Terrace near Orange, NSW about 6pm on Tuesday 8th November 2005. The second photo has a line marked to indicate where the tornado touched down.
The Orange SES Unit attend a site where the tornado touched down. It was on a property called "Seven Pines" Spring Side (about 3 km from Spring Terrace). The tornado had ripped out and damaged a large number of trees, followed by the destruction of a large machinery shed and garage, and completely de-roofed a house on the property. The SES worked through till late that evening tarping the house. Luckily the occupants of the house were not injured.
During the period of about 1 week including both of these events, there were 6 separate reports of different tornadoes in the Orange Area reported to the SES.
---
Orange, NSW
Dave and Jo Prescott witnessed this tornado about midday on Saturday 5th November 2005 at Orange, NSW. The elapsed time between the first and last photo is about 10 minutes.
---
Near Armidale, NSW
Landspout funnels were observed near Armidale on the 3rd November 2005 by Gordon Smith. Landspouts are not uncommon and can occur in multiples since they form along boundaries under cumulus clouds or thunderstorms. Although they are not as strong as tornadoes occuring from supercells, they still can cause significant amounts of damage.
The first 2 images were taken at 15:49 and show the main funnel with an upper cylindrical sheath. Photos 3 and 4 were taken at 15:52.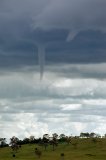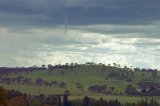 ---
Near Coonabarabran, NSW
A tornado was confirmed occurring on Thursday 20th January 2005. Conditions were favourable for the development of tornadic supercells.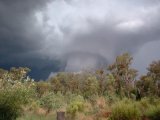 Other storms became outflow dominant. The photographs clearly show the clear slot with photographs taken from a western or northwestern perspective between 4.24 and 4.28pm. The account as observed by Brian and Vivian Evans. Photographs copyright Vivian Evans.
---
Newcastle, NSW
Large waterspout just off the Newcastle coast on Sunday 19th September 2004. Photos by Michael O'Connor
---
Illawarra Coast, NSW
Waterspout just off the Illawarra coast on Saturday 5th September 2004. Photos by Chris Chafer
---
Cabarita, NSW
A number of funnel clouds were observed off the Tweed Coast on 15th July 2004. The first sequence shown was probably a waterspout but too distant to be sure. Photos taken at Cabarita by Michael Bath. The full sequence of unedited photos taken on the day is available here.
---
Minnie Water, NSW
A waterspout off Minnie Water, NSW on 19th April 2003. Photos by Sharon Corry
---
Pottsville, NSW
A waterspout off Pottsville, NSW on 15th April 2002. Photo by Carlie Soul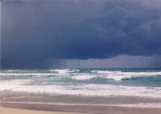 ---