---
The Wilsons River in Lismore peaked at 10.42m [AHD] at around 5.30pm on 2nd February after 48 hours of torrential rain, including 200 to 250mm in 12 hours from 9am Thursday. For comparison, floods measured with the new Australian Height Datum calculation are about 80cm lower than the old flood scale used in Lismore. So this flood was comparable with a flood of 11.2 metres on the old scale as most people of the Lismore region would recognise it.

Local flooding of a tributary of the Wilsons River at Boatharbour (at the bottom of McLeans Ridges) late afternoon 1st February.

Local flooding near Wyrallah 1st Feb

McLeans Ridges 2/2 looking north to the Wilsons River floodplain

Wilsons River has now taken over the floodplain

The following pictures were taken around the CBD of Lismore from about 4.30pm on the 2nd February as Dave Ellem and I walked around town. The flood basin behind the riverbank was still filling up with water at this stage. Although shops closer to the river were already experiencing the peak of 10.42 metres, in the basin it was several metres lower. It rose 60 cm while we walked around the town! There are some similar images as Dave and I took photos at the same locations.
---

24 hours to 9am 01/02/2001

NORTHERN RIVERS:
Alstonville 134 Ballina 120 Ballina Ap 118 Casino  61
Casino Ap AWS  89 Evans Head AWS  91 Grafton  72 Lismore  94
Mullumbimby 179 Murwillumbah 122 Nimbin  95 Tweed Heads 108
Woodburn 151 Yamba  78  Mcleans Ridges 95

24 hours to 9am 02/02/2001

NORTHERN RIVERS:
Alstonville 244 Ballina 206 Ballina Ap 188 Casino 215
Casino Ap AWS 219 Evans Head AWS 100 Grafton  76 Lismore 195
Mullumbimby 349 Murwillumbah 275 Nimbin 174 Tweed Heads 254
Yamba  38  Mcleans Ridges 261

MSL Chart 02/02/2001 06z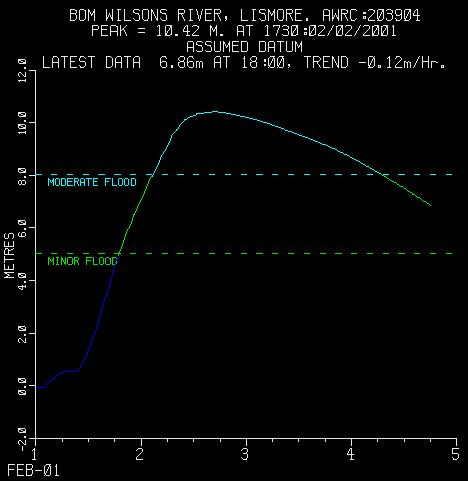 Wilsons River and Richmond River flood warnings:
Weather maps, rainfall figures and warnings from Bureau of Meteorology
For further details of the synoptic situation, refer to Torrential Rain and Severe Winds Batter SE QLD and NE NSW by Ben Quinn.
---